Sweater update
Finished the front and two side panels of my sweater, now called Neopolitan. I decided not to try and send it to Knitty. I'm not sure I can accurately make other sizes, so this one will be practice.
Next thing on the needles is the back. It should be a breeze to figure out compared to the front. The biggest problem has been the sizing. I am a 38.5" bust and a 30" waist. Since Neopolitan is all ribbed I went with a finished width of 32". Hopefully, when finished it will look like this: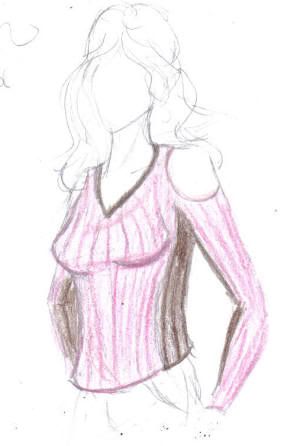 It's Christmas project time. I'm thinking about shrugs for my little cousins, but I haven't seen any childrens shrug patterns. I need to E-mail my uncle about the girls' measurments. My Aunt Paula will probably get a nice, but plain and practical hat and scarf. Janet will probably get something a little flashy. That's all I have for now.
The new Knitty rocks and yes, I am the absolute last person to blog about it. W and Soleil really rock! I Do is adorable, but I don't care for shrugs. I wasn't wild about Spring Fling until I saw one on LJ. The KNitty people really put out another solid issue. The article on ease was well timed :)