Free Pattern- obligatory hat
Here's my Boa earflap hat patten. I'll post a real picture later today. I made this hat a while back so please tell if some of this is wrong.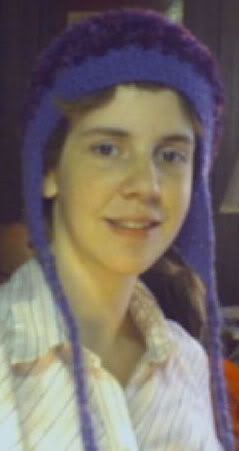 gague: 4 sts/ 1 in Sz 6 needles
Yarn: 1 skien Bernat Boa
1 skein Luxury Cashmere Aran or Debbie Bliss Cashmerino
scrap mohair (about 8 yards or so)
note: This can be worked in the round, I just didn't have the right sized DPNs.
CO 80 sts with the Cashmerino. Work in seed stich pattern ,working strait for 1 in.
Next row *K1, yo*. This is the RS.
Swith to Boa and work strait in garter st for 4".
Decrease every other row as follows:
*K7, K2tog*
*K6, K2tog*
*K5, K2tog*
*K4, K2tog*
*K3, K2tog*
*K2, K2tog*
*K1, K2tog*
*K2tog*
Run tail through live sts and pull tight. Seam hat.
Earflaps:
Count 15 sts from seam.
Pick up and knit 15 sts
Work in seed st 5 rows.
K1, K2tog*seed st* K2tog, K1
work 2 rows strait, then repeat decrease row.
End with K1, K2tog, K1
Cast off
Make a loop of yarn 1 yd long. Repeat 6 times. Make same loop with mohair 2 times. Cut 1 end of yarn loops. Make sure the leangths of yarn are folded in half. Run the folded in half bunch of yarn through the point of the ear flap. Secure like a tassell. Braid to desired leangth and trim Repeat with other side