Anticipation. oh, yeah.
I'm trying to be zen like and wait patiently, but I can't. The wait is driving me loony. I have a SP package, Loop D Loop, and four skeins of undyed Wool of the Andes on the way. I was sure the SP package would be here by now. Of course, who knows where it's coming from. To pass the time I went out to Shuttles Needles and Hooks in Cary. I have never seen so much yarn crammed in so small a space. I could have spent hours; it overwelmed me. It was like someones stash gone horribly arye ;). They even had huge hanks of the Henry's Attic yarns. The only complaint I have is that none of the skeins were priced. I think my next big yarn purchase will either be some Mystical Creations
Rayon/ Cotton/ Wool mix
in
one
of
these
colorways
I want it for the Corset Pullover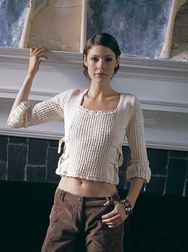 My other option is some
Wool of the Andes
for the Cabled Riding Jacket in Loop D Loop. I'm thinking about Winternight or Spruce.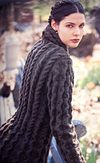 I sent off my next SP gift. I hope she likes it!
I have not been completely idle in actual knitting while waiting. I've knit the first five inches of
Angelina
. I'm using
Merino Style
in Hollyberry. It knit to gauge on size 2's and is very soft. It's also slow going K2 P2 ribbing is dull. I don't need to have it done until it gets cool and that's...mid October.
Oh, found the instructions to Gatsby. It'll get finished in the next couple days. I'll be glad to have it done.
Lil'un is going to VBS this week. He's having a great time. I'm thinking of changing my church membership there. Bayleaf is nice, but very big. It's easy to get lost in the crowd and this church seems small and friendly.