I need some sleep; time to put the old horse down.
What is it with song lyrics and post titles? I need some sleep by the Eels is playing now. Monkey see, monkey do I guess. ;) Anyway I finished the top border and facing on the VK Fair Isle shawl. Now to pick up 270 odd stitches. :sigh: I tried it on today. It's a bit smaller than I thought it would be. I think I'll try and block it aggresively. My measurements are good; it's just meant to be small. If I could go back I would forgo the buttonhole and make a crochet loop instead. If I were a plus sized gal I would definatly add some stitches to the width.
Another word of warning to those who make this pattern: You will need more than 1 ball of black. I had to knit the facing in another color. It's not a big deal, but irritating. I also bought an additional ball of dark blue since I am using it on the border instead of the proscribed color. This pattern runs close on yarn in most colors. Anyway, on with the pictures: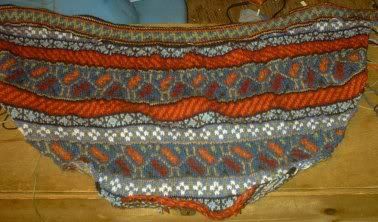 Lookit short rows. I like the border colors :)
I joined the Colors of Autumn Knit along. If your interested in doing any sort of color work project, you ought to join us. The more the merrier!