sleeves are boring
I'm 11" along on the sleeves of my Medallion cardi. *cue whiney voice* Soooo boring. I need 7 more inches before I can shape the sleeve cap.
Every other project I can think of looks really good right now. But I must finish, if I stop I might never pick it up again and that would be a shame.
The next project is going to be a
haiku
made out of Autumn Red Caron Simply Soft. No twee pastels for me. It's for my boss' new baby, due in January. Pretty, pretty yarn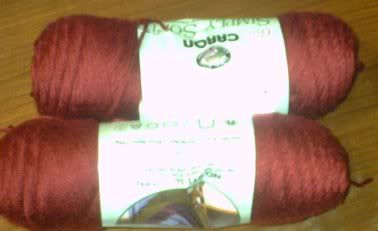 I'll probably also make some booties or socks and a hat.
I found a new (to me anyway) yarn in pretty, pretty colorways. It's a brown sheep yarn called
Wildfoote
. I have one skein of bluegrass colorway that I will combine with some leftover green I have to make some half finger gloves. Sometime...eventually. I also scoped out the color selection at Great Yarns for the Turkish shawl in VK. I need 10 colors in sport weight! The frontrunner so far is Smart Superwash. I'd have bought them today, if I'd have actually had money. *shrug*