washcloths
I finished the body of Medallion Cardi. It's even stitched up and the ends are woven in. I will start on the sleeves after I cut out my MIL's blouse pattern. Ugh. I am so not in the mood to sew. It's so tedious and I can't take it with me. Oh well, I promised.
I shipped my SP's last package out today I made her some washcloths. Very cute.
Here's
the pattern. One ball of Sugan and Cream will make like 2.25 cloths.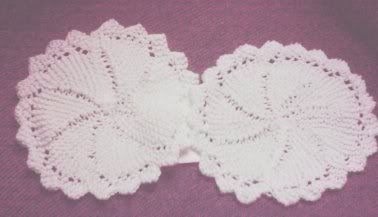 We might be moving in the next 6-12 months. Hubby has been offered a job near Belhven on the coast. Unless plans change, he is to handle water treatment for a new community. It's all very exciting. It will mean a big raise in pay; I wish it were possible to move money back through time. Sigh, it would really help :/ Oh well, it's something to look forward to; a bend in the road, as Anne Shirley put it.