Haiku done
Finally finished
Haiku in a pretty red
Now for some booties.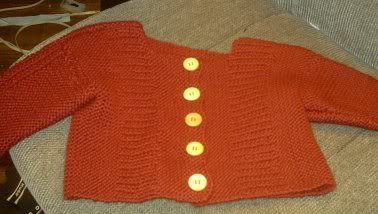 Haiku, from Knitty, is made from Caron Simply Soft in Autumn Red. It took one and a quarter skeins. The buttons are wooden 7/8" from Walmart. Anyway, it was an easy, clearly written pattern and I highly reccamend it.
In other knitting news I'm still making washclothes. The TDR has stalled because I don't like knitting with that boucle. I may dye some wool soon so I can make the felted hat in Loop D Loop. I'm not sure of the next project yet.