Gatsby is Done!
I just finished the edging to Gatsby. I'll block it and take some pictures next time I'm at my parent's house. Thank goodness it's done. I couldn't start a new project until that one was finished. If I can get gauge with something in my stash, my next project will be the knit and crochet shawl from the latest Vogue Knitting. I've had my eye on it for awhile, but couldn't crochet.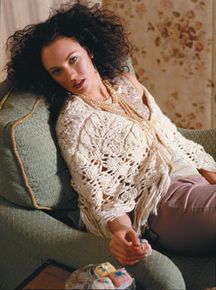 I have some Smart Superwash in milk chocolate brown I could try doubling. It was going to be Myrna, but would not meet gauge.
Lil'un is sick with a cold. Poor lil'un.